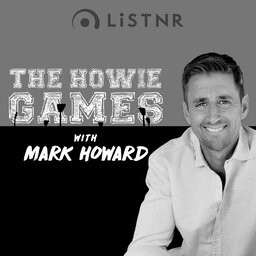 One of the biggest names in the history of Australian Swimming. He has multiple Olympic Gold Medals – including the famous 4x 100m victory at the 2000 Sydney Olympics. He has even more World Championships and a bag of Commonwealth Games medals.
In more recent times, he has had to harness all of his courage, competitive spirit, elite mindset and his almighty work ethic which he was renowned for in the swimming pool, towards a health battle out of it.
Klimmy is three years on from a life-changing diagnosis with a rare neurological disorder and steps through the initial shock, challenges, and his positive outlook for the road ahead.
He is Michael Klim, and he is a ripper – in and out of the pool.
***
Michael Klim joined the Howie Games thanks to his Ambassador role with the Australian Red Cross Lifeblood. It is estimated it's taken approximately 1000 blood and plasma donors to date to keep Michael Klim leading a functional life!
Check your eligibility to donate. And remember, new and existing donors are welcome. Book a blood or plasma donation online, by calling 13 14 95 or by downloading the Donate Blood app.
————
Follow the Howie Games on Instagram: https://www.instagram.com/thehowiegamespod/
Follow the Howie Games on TikTok: https://www.tiktok.com/@thehowiegames