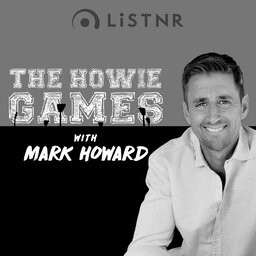 #TheHowieGames | Ray Warren is the voice of rugby league. A phenomenal sports commentator who always seems to say the right thing at the right time. He is a fitting guest in Grand Final week in Australia. The man universally known as 'Rabs' is a natural story teller. He is loved by his audience for his down to earth manner and the fact he enjoys a bet, a beer, his mates, his family and sport.
In this episode Ray reflects on his journey, from make believe commentary calls as a kid to living his dream every day he goes to work.

Thanks to the Nine Network for allowing Ray to appear on the podcast. This bloke is a legend.
Find Howie on Facebook: https://www.facebook.com/MarkHoward03/
Follow Howie on Twitter: https://www.twitter.com/markhoward03/
Follow Howie on Instagram: https://www.instagram.com/markhoward03/
Find PodcastOne Australia on Facebook: https://www.facebook.com/podcastoneau/
Follow PodcastOne Australia on Instagram: https://www.instagram.com/podcastoneau/
Follow PodcastOne Australia on Twitter: https://twitter.com/podcastoneau
Download the PodcastOne app from the Apple and Google Play app store