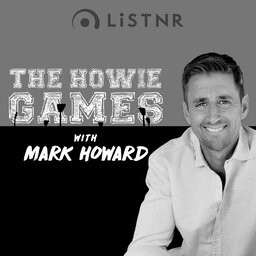 HOWIE GAMES HOTLINE – Be a part of the Howie Games!
☎️ 0434-694-301 ☎️
This is something new….If you've got a question – any question – you'd like answered and you want to be a part of the show, now's your chance because the Howie Games Hotline is OPEN! You can ring & leave a message at the tone, or even better record a message and send it via text or WhatsApp. Remember to start with your name and where you're listening from, and I'll play your message in an upcoming ep. Looking forward to seeing how we go with this one gurus!
☎️ 0434-694-301 ☎️
#TheHowieGames | Steve Smith is a once in a generation cricketer. One of the greatest batsmen the game has ever seen.
Steve is also a wonderful fella.
This ep covers Smithy's early days in the nets with his Dad, the international stage, believing in your game, the passing of his great mate Phillip Hughes, an in-depth discussion on batting, the toughest of times, Joffra and The Ashes and the work Steve is doing with Gus Worland and Gotcha For Life in trying to help prevent youth suicide.
The video Gus and Steve have made for schools mentioned in the ep can be found here – https://www.youtube.com/watch?v=8eSz9yZK7Hw
❤️